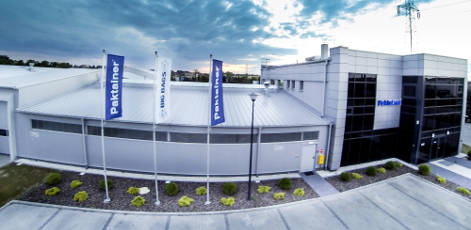 Since 1990, Paktainer has produced high-quality flexible intermediate bulk containers – BIG BAGS designated for loose material packaging. From the beginning, our products were delivered to the demanding EU market. Currently, more than half of company sales are exported. Serving a wide array of industries has allowed us to gain a great wealth of experience which gives us the capability to design optimal specifications for every client.
BIG BAGS can be used for the storage and transportation of any loose material, like food products or even dangerous goods. BIG BAGS are commonly used in the chemical, food, pharmaceutical, building, farming and extraction industry. Paktainer also offers a wide range of BIG BAGS with UN codes - for dangerous goods and type C BIG BAGS (ED bags) – for products with a risk of explosion

Paktainer operates according to the ISO 9001 Management System. Our activities, starting from order collection through production and logistics, are strictly controlled and monitored to ensure the highest quality of finished BIG BAGS. Paktainer has specific certificates for specialized BIG BAGS, including UN and type C BIG BAGS. Our experienced and qualified team, expanding machinery park, long-term cooperation with our suppliers, as well as our procedures we have developed together over many years, ensure the highest quality of every single BIG BAG.