FIBC packaging is used in different sectors, including sectors with strict requirements in relation to cleanliness levels. Owing to the high quality of packaged products and their end use, clients of the food, chemical and pharmaceutical sectors expect the interior and exterior surfaces of the big bag packaging to be free of any dirt and contaminants.
Paktainer has implemented and successfully undergone the certification process for the BRC Global Standard for Packaging and Packaging Materials – Issue 5, from July 2015. This is the first Packaging Standard in the world to be recognised by the Global Food Safety Initiative (GSFI) benchmarking committee. Paktainer's certificate is valid for the scope: the manufacture by cutting, flexo-printing, sewing and gluing of packaging as flexible intermediate bulk containers (FIBCs, big bags) made of polypropylene, with or without sealed PE, EVOH and Alu liners optionally equipped with valves, for food and non-food use. In order to ensure that the hygiene level of the packaging remains high, we undergo periodical audits through DNV GL Business Assurance Italia S.r.l..
Manufacturing process for hygienic food grade FIBC
Thanks to implemented BRC standard, the risks which could have a negative impact on the quality of packaging have been eliminated. Food grade bulk bags are manufactured in controlled conditions, our employees work in protective clothing, while the devices used in the manufacture of big bags are disinfected prior to the commencement of every production batch, in addition to regular washing of the machinery.
Similarly to food manufacturing plants, all wooden components have been removed from the production line and the manufacturing process is conducted on stainless steel tables and trolleys.
For packaging without special foil liners (PE, PA/PE, PET/ALU/PE, etc.) which provide hygienic protection, the company has implemented an additional vacuuming procedure for every packaging item. This process aims at maintaining cleanliness of the packaging chamber so it is free from fabric fragments and threads. Each single bulk bag undergoes metal detection.
The system approach of Paktainer to hygiene issues ensures that the quality of the manufactured packaging is stable.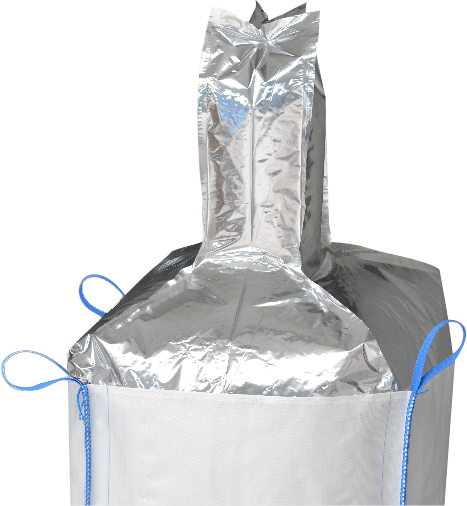 Components for the manufacture of big bag packaging
All components used by Paktainer in the manufacture of packaging are certified as food grade materials which can come into contact with all foodstuffs. Consequently, the Paktainer big bags comply with the provisions of European standards. In addition, the components contain no heavy metals and have no impact on organoleptic properties.
All products offered by Paktainer have been certified by the National Institute of Hygiene (Department of Food Safety), which confirms that they pose no risk to human health. Apart from the quality certificates which are issued with every order, our clients also receive declarations of conformity.
Do you have questions? Use the contact form!